The brothers and alumni board of Moravian College's Sigma Phi Epsilon chapter recently named Michael Guarino '17 the recipient of the "Balanced Man Scholarship." The $1,000 scholarship is awarded annually to an incoming freshman who has exemplified through their academic and extracurricular endeavors, "A Sound Mind and Sound Body."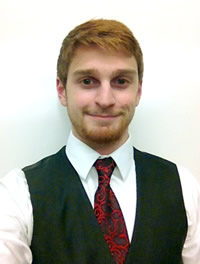 Michael Guarino , son of Phil and Christina Guarino, is a 2013 graduate of Easton High School where he was an honor roll student and member of the National Honor Society. Outside of the classroom, he earned multiple varsity letters as a captain of the Red Rovers' Ice Hockey and Track & Field teams. In addition to his honors workload and varsity athletics, Guarino also contributed to the Easton High School and local community through volunteering at soup kitchens, tutoring elementary children as well as his high school peers, and organized multiple fund raising efforts for the Rotary Club. Upon his acceptance to Moravian, he was awarded the Founder's Scholarship and enrolled in the Neuroscience program.
"The Balanced Man Scholarship is an excellent program for us," said Chapter President Parker Munson, "It not only helps us to identify men of character as well as the kind of talent we look for in potential brothers, but it gives us the opportunity to reward our own merit scholarship to help with the costs of school."
Joining Guarino as Balanced Man Scholarship finalists were the second and third place runner-ups Brendan Barca and LeRoy Smith winning $200 and $100 scholarship prizes respectively. Barca comes to Moravian from Robbinsville, N.J. (Robbinsville H.S.) and is a member of the Greyhound Soccer team majoring in psychology. Smith is a native of Whitehall, Pa. (Whitehall H.S.) and is pursuing a degree from the College in middle level education (fourth through eighth grades).
Sigma Phi Epsilon, established in 1901, is one of the nation's largest fraternities, with over 15,000 undergraduates on 240 campuses across the United States. Its mission is "Building Balanced Men," which is achieved through a four-year member development program that has contributed to a fraternity-wide GPA of over 3.0, a focus on the principles of sound mind and sound body, and service learning efforts that allow members to develop leadership skills while giving back to the community. For more information, contact: Parker Munson, Chapter President at stprm03@moravian.edu.
This article was originally published as a press release.