Each issue of InCommon tells the story of a Moravian alum or student who is "living the Moravian Promise." Moravian College promises to partner with students to build a strong foundation for their personal and professional future. Moravian challenges students with: 1) a strong, personalized academic major; 2) hands-on learning opportunities; and 3) an environment that promotes the development of a deeper enjoyment of life.
Brian Corvino '02
Vice president of operations, PharmaStrat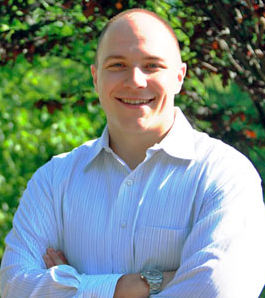 "The Moravian ecosystem of learning provided me with a foundation for the future."
When he started at Moravian, Brian Corvino '02 decided to take advantage of every opportunity the College had to offer. In addition to his job as vice president of operations for PharmaStrat, a consulting firm to biopharmaceutical and medical device companies, Corvino is now an unabashed cheerleader for his alma mater.
"The Moravian ecosystem of learning—dedicated and passionate teachers, an engaged student learning community, and a nurturing environment to pursue a multidisciplinary liberal arts education—provided me with a foundation for the future," says Corvino, a Moravian Emerging Leader Award recipient, College Trustee, and Alumni Board of Directors president. "I apply the principles of virtually every discipline in a liberal arts education on a daily basis."
Thanks to some help from his Sigma Phi Epsilon (Corvino was chapter president) mentor, Phil Patrick, Corvino did an internship at PharmaStrat, where he and Patrick are now partners. Several study abroad experiences in Europe ignited his passion for travel; the student who had never left the continental United States now has visited four continents. The Honors program not only provided closure on his undergrad years, but helped launch his future.
"The Honors program is the single most transformational educational experience one can have," says Corvino, a double major in political science and economics who earned an MBA from University of Pennsylvania's Wharton Business School. "It allowed me to pursue my passion for studying global health and truly linked all the areas of my liberal arts education."
The Moravian community holds deep meaning for Corvino, and he counts his college friends as members of his extended family. He met his wife, Jaime Marks Corvino '04, also a member of the Alumni Board of Directors, on campus, and briefly attended with his sister, Lindsay Corvino '05.
Even Brian's mother, Bonnie, can be considered an honorary 'hound. "I'm convinced my mother is one of the more active members of the Moravian alumni community, even though she never attended."
Article taken from Moravian College InCommon.